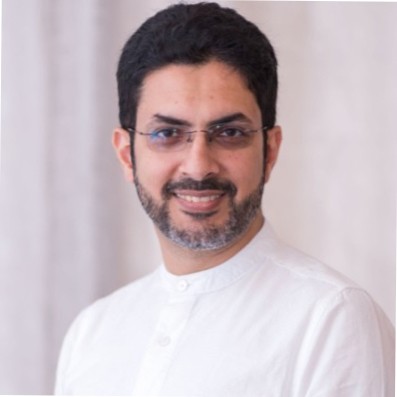 Muhammad H Mawji (BEng Hons, MSc)
Managing Director
Muhammad is a seasoned entrepreneur with a wealth of experience in the information technology and services sector. Over the course of more than 17 years, he has built a reputation for excellence and innovation in IT Service Management, IT Strategy, Servers, Data Center operations, and Management.
His entrepreneurial journey is marked by a strong business acumen, allowing him to navigate the complexities of the industry and drive sustained success. Muhammad's strategic vision and deep understanding of technology make him a formidable force in the business world, consistently leading ventures to new heights of achievement.
Welcome to Prompt IT Solutions, where innovation meets expertise. With a rich legacy spanning over a decade, we have emerged as pioneers in the realm of cutting-edge technology solutions. Our dedicated team of seasoned professionals, armed with a deep reservoir of knowledge, is committed to delivering bespoke IT solutions tailored to your unique business needs. From streamlined network architectures to robust cybersecurity protocols, we pride ourselves on staying at the forefront of technological advancements. We believe in empowering businesses with the tools they need to thrive in an ever-evolving digital landscape. Trust us to be your steadfast partner in harnessing the power of technology for seamless operations and sustainable growth
IT INFRASTRUCTURE
Empower your business with our top-tier IT Infrastructure Services. We design, implement, and manage robust solutions for maximum efficiency and security. Future-proof your technology backbone with us for seamless operations and growth.
DEVELOPMENTS
Experience the forefront of IT with our services. From dynamic web development to bespoke software solutions, we harness the latest industry advancements. Elevate your digital presence and streamline operations with our cutting-edge expertise
MARKETING
Unlock your business's potential with our tailored marketing solutions. We craft strategic campaigns, harnessing the power of digital platforms and data analytics to drive growth. From SEO optimization to targeted advertising, we ensure your brand reaches the right audience at the right time.
SECURITY
Elevate your business's security posture with our comprehensive IT Security as a Service. Our expert team deploys advanced technologies and proactive measures to safeguard your digital assets. From threat detection to incident response, trust us to fortify your defenses in an ever-evolving cyber landscape.
I have used Muhammad for all our business IT infrastructure and support. He is easily the best out there as he is reliable, trustworthy and great value for money but perhaps more importantly gets problems sorted in a fast efficient manner

I would recommend Muhammad to any business that uses IT as a key element of their business

Trevor Cox - Managing Director at Trenita Ltd
I have worked with Muhammad over 15 years, with amazing skills in IT.
Muhammad is always accountable and fantastic at creating a solution for business.
Prompt IT has always been supportive in all my business and very pleased to say that
Suppliers like Prompt IT is so valuable and limited.

Thank you Muhammad for all your support over many years and many more to come.
I have recommended Prompt IT to various business's and will continue.

Alan Read - Director of Business Development at UK Legionella Water Services Ltd